Mold Testing in Fort Washington
Have you ever walked into your bathroom and paused everything to question the mustiness of that space? Well, it's not surprising, considering that these damp areas are the prime breeding grounds for mold and mildew.
You're likely to find mold in both outdoor and indoor environments. However, outdoors, mold is an essential part of the ecosystem, but indoors it can be very problematic to every homeowner. Mold tends to damage your home and cause a wide range of health issues to you and your family members. When mold is detected at the early stages of development, it's easier to control and eliminate it before it spreads, preventing extreme damages. But it's more critical hiring a mold inspection and testing specialist prior to the mold removal or remediation processes.
Although these two entities are used together, there is a difference between mold inspection and mold testing. Inspection is the first visual examination of the home for visible mold, while mold testing involves collecting samples for lab analysis to determine the presence of mold scientifically.
Mold mostly grows in the dampest and darkest areas and corners of your house. The mold spores enter your home through the doors, windows, pets, shoes, clothing, and air conditioning vents. When mold spores land in the right conditions, they rapidly grow and spread.
Mold inspection is different from typical housing inspections, and it's an essential service to consider when buying a new home.
If you're in Fort Washington and you suspect that mold has compromised the air quality in your home, get some peace of mind by hiring mold inspection and testing experts from Hippo Carpet Cleaning of Fort Washington. We will professionally determine the presence of mold before it causes damages and severe health problems.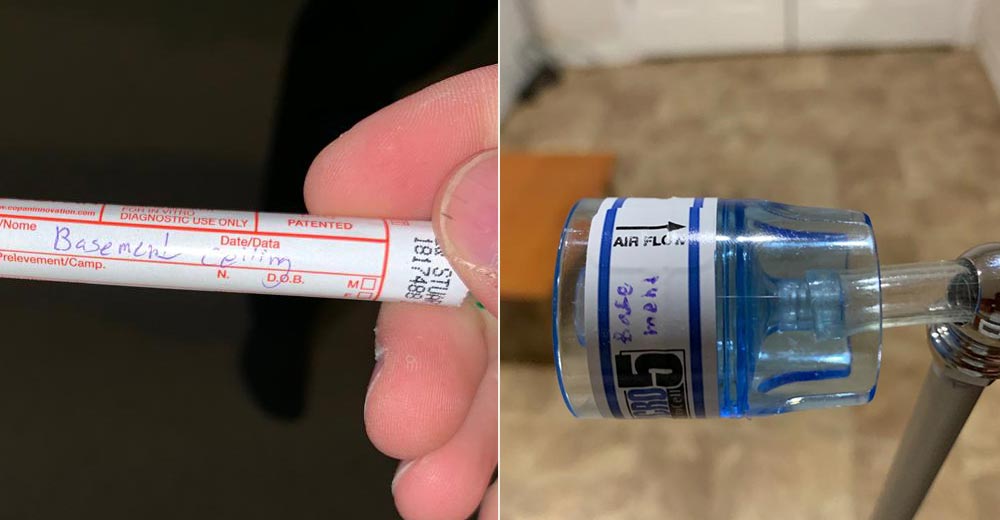 Dangerous Health Effects of Mold
Although mold in your home may not make you necessarily sick, it may cause specific health issues to any occupant of the affected areas. Inhaling or touching mold spores may result in allergy-type issues like:
Coughing and sneezing
Skin rash
Congestion and runny nose
Eye irritation
Sore throat
Wheezing and lung irritation
Headache
If you have a condition such as asthma, allergies, or chronic obstructive pulmonary disorder, you may be at a higher risk of developing complications. In addition, exposure to extreme amounts of mold spores will result in more severe reactions.
Apart from health problems, mold is likely to cause damage to your home. Focus on first getting a mold inspection and testing expert from Hippo Carpet Cleaning of Fort Washington to ascertain the presence of mold growth before hiring a mold removal technician.
But how do you know you have a mold problem at your home? Well, common warning signs of mold growth include the musty, earthy smell, discoloration of walls, and peeling and cracking of whatever material the mold is growing on.
Our service providers have experience in the various professional sampling techniques, protocols, and interpretation of the results. They use modern state-of-art equipment and tools for inspection and testing services.
Consider mold inspection and testing when:
There is no visible mold, but the smell of mold is present.
There has been water damage or plumbing leaks.
Increasing health issues with mold-related symptoms.
Tenant/landlord dispute over the presence or absence of mold.
You are interested in an indoor air quality test of the home environment.
After mold removal to ensure that the previous mold problem has been resolved.
Stay away from the over-the-counter mold test kits as they are often misleading with sampling errors. Our mold testing experts at Hippo Carpet Cleaning of Fort Washington are there to take care of inspection and testing services.
When you let our professionals handle the mold problem in your house, they will perform sampling and do a comprehensive visual inspection to rule out other mold-related issues that aren't apparent to many people who don't have our training in mold inspection.
Our professionals have years of experience in this field and are equipped with modern tools for exquisite results. After the tests, you will be provided with a detailed professional report outlining the mold problem and steps to handle the issue. This report helps you know what's going on, and with it, you will make sure that the mold problem in your home is appropriately fixed.
Instead of wondering what's causing the long-lasting musty odors and extreme respiratory problems, get in touch with us, and we will be delighted to help you.
Methods of Testing for Mold
Broadly speaking, mold testing typically entails taking samples of either the surfaces or the air. Our experts will test the air and surfaces in your home to find out the type of mold and if the mold detected has the potential to grow and rapidly spread in the tested area.
Mold inspection

Our trained technicians first perform a comprehensive visual examination of the room or property suspected to have mold, or where visible mold has been observed.

Air sampling test

The most common indoor air sampling method is the spore trap. After collection, the sample is sent to the lab for analysis.

Another sample is taken outside to act as the control, and then a comparison is made between the indoor and outdoor samples to determine if there are extreme mold levels in your home.

Surface sampling test

Surface sampling is conducted using various techniques; bulk samples, swab samples, and tape samples. For the bulk samples, a piece of the area suspected to have mold is physically removed and sent to the lab for testing.

Tape samples are taken with a piece of tape that's pressed against the surface and removed. It picks up any mold that may be present on the surface. On the other hand, swab samples involve a cotton swab that's rubbed on the area being sampled and taken to the laboratory.
Are you looking for technicians with expertise and experience in inspection and mold testing? Well, Hippo Carpet Cleaning of Fort Washington mold specialists are always ready to respond to your quest. We provide quality services at fair prices and immediate scheduling options. You can discuss your concerns with one of our technicians over the phone for consultations and estimates. Don't wait. Contact us NOW! 301-579-3893.