Offsite Rug Cleaning Service Fort Washington
A rug not only acts as protection for your flooring, but it is also useful for contributing to the appeal of your home. However, to prolong the life of your rug, you need to hire the services of professional rug cleaners. Hippo Carpet Cleaning of Fort Washington has been in the industry for several years and knows what it takes to care for your rug. We will do it professionally to protect your investment and extend its life.
What is Offsite Rug Cleaning in Fort Washington?
Offsite rug cleaning involves our bringing your rug to our rug cleaning facility where we give it a thorough clean. Whether you have a wool rug, oriental rug, or Persian rug, our team of experts will keep your rug cleaner and free of contaminants. Most rugs are delicate and attempting to clean your rug yourself can unfortunately shorten its life. This is especially true for oriental rugs and rugs with little or no backing. Here at Hippo Carpet Cleaning of Fort Washington, we offer a full line service for cleaning rugs. Below is our rug cleaning process.
Rug Pickup
When you contact Hippo Carpet Cleaning of Fort Washington, we will send our team to pick up your rug. You're leaving your rug in good hands! Our staff brings it to our cleaning facility.
Pre-Inspection
What follows is a pre-inspection of the rug to check for any conditions including stains, spots, and odor. Our rug cleaning specialists will also examine the type of fiber to determine how to treat your rug. We use the best rug cleaning methods, combined with modern equipment and eco-friendly supplies to take care of your delicate rug. Our techs will also evaluate whether the rug has any structural damage.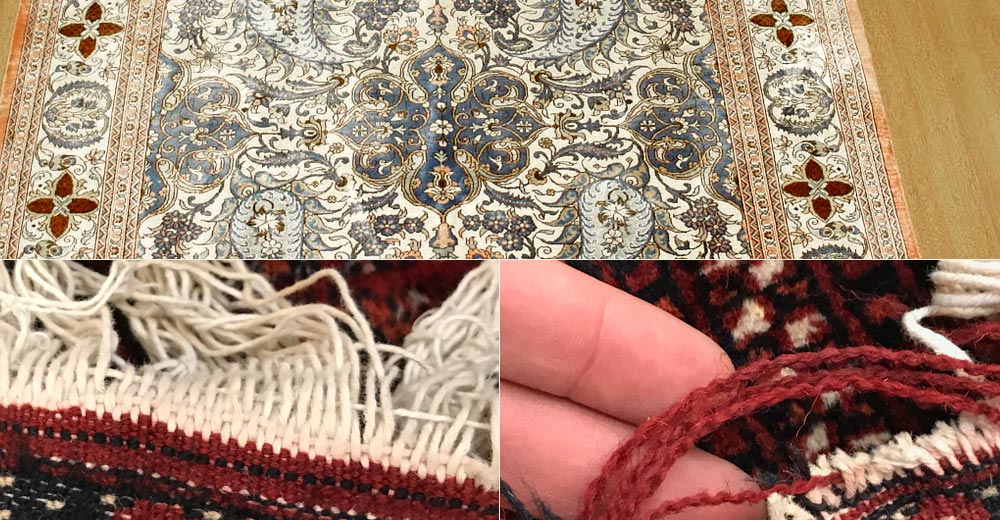 Dusting and Vacuuming
To start the cleaning process, our specialists will dust it to get rid of any dust or debris that has been embedded in the rug's fiber. Proper dusting increases the rug's pile and makes the cleaning effortless. We will also vacuum your rug to remove any loose dirt and dust.
Color Testing
We will test your rug for color fastness and apply a dye-locking agent if there is a likelihood of dye bleeding or migration.
Washing
Depending on the type of rug, we will use the right cleaning products that will eliminate any stains or spots without damaging your investment. Immersion in our washing area will remove any dust and allergens on your rug. If your rug cannot go through submersion, we will use low moisture methods to clean it.
Drying
After rinsing the rug, we will take it to our rug drying chamber where it will go through a complete drying process. We ensure that the rug is completely dry to prevent any odor, mold, and mildew growth.
Drop-Off
Once your rug is clean and dry, our team will drop it off at your premises.
Benefits of Offsite Rug Cleaning
While onsite rug cleaning may appear convenient, offsite rug cleaning has more benefits. Offsite rug cleaning is an ideal choice if you want your rug to be professionally cleaned without destroying your rug or the floors. By bringing your rug for you to our specialized rug cleaning facility in Fort Washington, we will ensure a more thorough wash that will give it a cleaner and brighter look. With offsite rug cleaning services, it becomes very easy to dust the rug and remove particles that may be deeply embedded in the fibers. Otherwise, dusting on-site may not completely eliminate the dust particles.
Our cleaning facility has separate cleaning areas for specific cleaning processes. The washing and rinsing areas have plenty of water to facilitate proper cleaning, which may not be the case with onsite cleaning. What's more, our cleaning facility has a separate dying area that will allow adequate drying time for your rug.
How Much Does It Typically Cost to Clean a Rug?
When it comes to the cost of cleaning a rug, Hippo Carpet Cleaning of Fort Washington considers several factors. The final rug cleaning price can depend on the rug cleaning method, material, style, and size. More often than not, the cost to clean a rug is greatly determined by its size. Generally, you can expect to pay more for a 96 square feet (8-foot by 12 feet) rug than for 8 square feet (2-foot by 4-foot) rug.
Another important consideration is the type of material. Rugs can be made of different materials and weaving patterns, and this will determine how best to care for them. Natural fibers like silk and wool require a lot of care and can be more expensive to clean than synthetic fibers. Besides the material, the style of the rug can also determine the cleaning cost. Generally, it costs more to clean Persian and Oriental rugs compared to Indian, woven, and flatweave rugs.
Professional Offsite Rug Cleaning Service in Fort Washington!
Hiring a professional rug cleaning service for specialized offsite cleaning comes with numerous benefits. Hippo Carpet Cleaning of Fort Washington will ensure that your rug goes through the most suitable treatment at our facility. Give us a call now at 301-579-3893 to get an estimate and avail yourself of our safe, affordable, and efficient offsite rug cleaning service.