Water Damage Restoration Services in Fort Washington, MD
One of the most common problems that homeowners face is water damage. This problem could start because of a leaking ceiling, burst pipe, flooding, or even a clogged toilet. Water can cause a lot of damage in a building if poorly managed.
It is vital to follow the right water damage restoration process. Complete water removal is essential to prevent the growth of mold in your home. We have outlined the process you need to follow for repairing water damage.
Steps to Water Damage Restoration
The restoration process from water damage for homes requires more than basic clean up. You need to employ the services of an expert water damage repair service in Fort Washington, MD. However, before the repair service arrives, you can help prevent unnecessary damage to your belongings by carrying out water mitigation.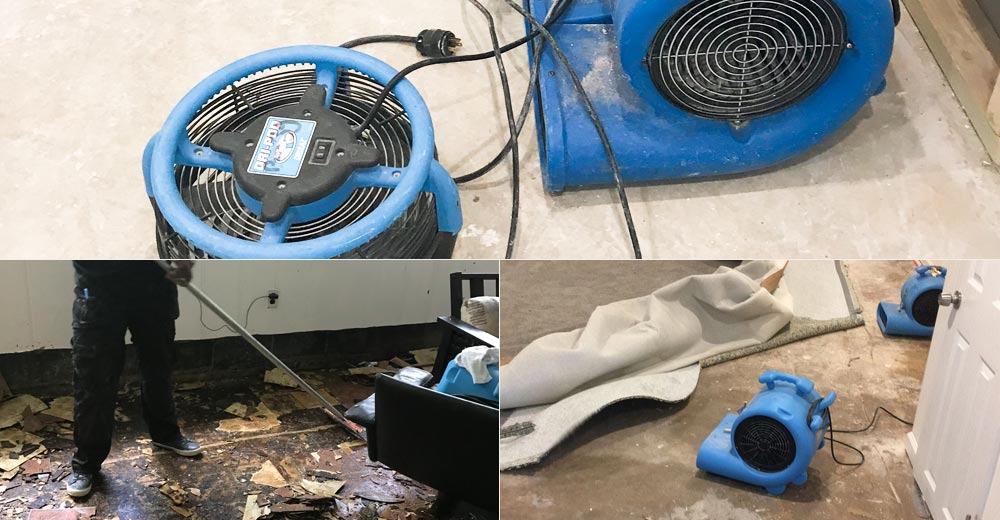 Water mitigation reduces the level of damage caused.
These are the steps you need to follow for the restoration of your home in the case of clean water damage or other water damages:
Mop the floor and blot out as much water as possible.
Remove wet area rugs.
Wipe the furniture clean and dry wet cushions.
Loop the draperies on a rod up away from the water.
Take your artwork, photos, and paintings to a dry place.
Open your closets, drawers, and cabinets for drying.
Pack the books on your shelf tightly until the professionals arrive.
While you can carry out these steps on your own, there are flood cleanup procedures that require home repair services. Our experienced team will remove excess water, remove contaminated materials, set up equipment for structural drying and dehumidifying, clean and sanitize, and replace any building materials removed earlier. You need professionals to take care of getting your property dry ASAP because the increase in humidity and moisture can expose your house to the risk of mold and mildew.
You should note that mold remediation can be more expensive than prevention. Therefore, you must deal with mold early. We have pointed out the steps you need to prevent it after a storm and flood damage repair.
How to Prevent Mold and Mildew
Mold forms on moist surfaces. Your house stands a high risk of mold contamination after being flooded with water. Once you notice a growth, ensure you have it removed as soon as possible. Mold can damage the surfaces on which it grows. It is also a health risk, especially for people with asthma or allergies.
How can you prevent it from forming in your house? You should follow these steps
Repair any leaks or faulty water pipes that can increase moisture, a breeding ground for mold. Water cleaning alone is not enough. Fix the source of the problem.
Clean and dry wet surfaces promptly, especially in areas that are typically damp like your basement.
Find a way to control the humidity in your home. Humid air has more moisture content, and moisture enables the growth of mold. You can install a dehumidifier and vents to keep the humidity under control.
Employ the services of professionals for cleaning up water damage. These repair services have industrial instruments that help them clean up all the moisture, which helps prevent mold growth.
The cost to repair water damage is not comparable to what you might have to pay for mold inspection and remediation. Disaster damage restoration helps you keep all your belongings in good condition despite the water incident.
One of the essential things you need to clean after flooding is the porous materials like your carpet, which quickly absorb water. We explain below more about why carpet cleaning is crucial after experiencing water damage.
The Importance of Carpet Cleaning After a Water Damage
Water can cause a lot of damage to your properties. Your carpet is one of the things you want to keep far away from moisture.
What are the things that can happen to a water damaged carpet?
It would soon start smelling
It might lose its color
It allows the growth of mold in your house
Water damaged carpets can take a very long time to dry on their own. Within this period, the effects of the damage start to show, and it can ruin your carpet forever. You shouldn't carry out your water damaged carpet cleaning yourself. Professionals have the technical skills and equipment that helps shorten the period to days.
Caring for Your Water Damaged Property
We are dedicated to giving you all the services you need to care for your water damaged property. Our partner in this endeavor is Flood Damage Pro, experts in water damage restoration. With their help we have extended our coverage and our time availability to be there for all our customers. Did you experience water damage to carpets in Fort Washington, MD, recently? We are the business to contact.
Our team of specialists at Hippo Carpet Cleaning of Fort Washington is skilled at water damage cleaning. If your concern is cost, it will interest you to know that we offer fair and affordable water damage repair costs. Give us a call at 301-579-3893 to get a free estimate today!